Home Is What You Put Your Heart Into
Benken started with Harry and Johanna Benken in Cincinnati in 1939. For over 80 years, Benken Florist Home and Garden Center has prided itself on quality and service, combined with a friendly and knowledgeable staff.
Through the years they built the business with their six children. Harry and Johanna's son Richard and his wife, Annette, became the owners in the early '70s. That's when Benken started offering wider varieties of blooming plants and individualized floral work. The focus of the Benken family was gradually shifting from growing to retailing.
In 1997, Michael Benken and his wife, Kathleen, became the third generation to own and operate Benken Florist Home and Garden, and they continue to run Benken today.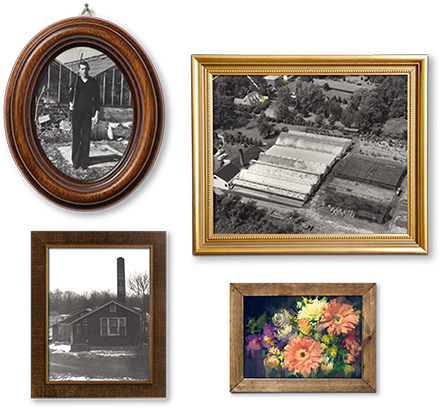 Grow With Us
Looking for a career with plenty of space to grow? Want to work with your hands and for people? Contact us below through the form below or email benkens@benkens.com
Delivery Policy
Check out our delivery information and see how you can get home grown flowers and plants right to your front door.
View delivery Policy
The Benken
Fundraising Program
Looking to help make a difference? The Benken Fundraising Program is designed to help do just that. Simply sell $25 Benken gift cards, and your organization makes $5 on every card sold.
Location
6000 Plainfield Road
Silverton (Cincinnati), Ohio 45213

Current Store Hours
Monday-Saturday: 9am-5pm
Sunday: 9am-3pm
Office/Phones:
Monday-Saturday: 8am-5pm
Sunday: Office Closed
Upcoming Holiday Schedule

Date
Hours
Thursday, November 17
9am-7pm
Thursday, November 24
Thanksgiving Day
CLOSED
Thursday, December 1
9am-7pm
Thursday, December 8
9am-7pm
Thursday, December 15
Employee appreciation time
9am-3pm
Saturday, December 24
Christmas Eve
9am-3pm
Sunday, December 25
Christmas Day
CLOSED
Monday, December 26
Monday after Christmas
CLOSED
Saturday, December 31
New Year's Eve
CLOSED
Garden Center/Store only, office hours remain as listed above.
Hours are subject to change every few months and on certain holidays. Be sure to check back!